ESCAPE ROOM REVIEW – THE QUICK AND DIRTY
Play if… you love English history, or Monty Python and the Holy Grail.
Avoid if… you are useless in a hostage situation.
---
THE BASICS
Escape Quest Inc:
Address: 1127 King St, Alexandria, VA 22314 (click address for Google Map)
Contact and Website: 703-574-8175
hello@escapequestinc.com
https://www.escapequestinc.com/
The Room – King's Ransom:
Description (from the company website): You and your friends are locked inside the King's royal chambers, tasked with finding a hidden coffer of gold and saving the King from certain death. His chambers are riddled with secrets and hide his most valuable assets. See their video trailer below.
Difficulty (1-10): 8/10
Time Limit: 60 minutes
Cost: $34
Identifier: R1
Party Size: 2-10
Staging Area: Lobby has a lot of space to sit on couches and chairs, and the tables have a few puzzles to work on and get your mind revved up before starting your room. The front desk attendant will also offer a small bottle of water. Restrooms are right next to the lobby.
Metro Access/Parking: King Street metro w/ a .4 mile walk (or take the free King Street Trolley to N. Payne St.); street/garage parking.
---
OUR EXPERIENCE
This is the video we took before we entered the room:
This is the video we took just after we completed the room:
Logistics:
Description of the room: You walk in and there's a giant table in the middle, a throne, fireplace, and other items relevant to the time period.
Understanding of the Mission: The King has been kidnapped (gasp!) and it's up to you and your friends to figure out where the gold is hidden to pay his kidnappers for his safe return.
Did We Escape: Yes
Time Remaining: 25:33
Our Suggested Party Size: 5-6 should work fine if you all have done rooms before.
Did the room challenge the entire team? Yes
Members of our team (other than the ERG): JJ & Kristy, Sara & Eric, Mark, Alphoso, Margaret, Eric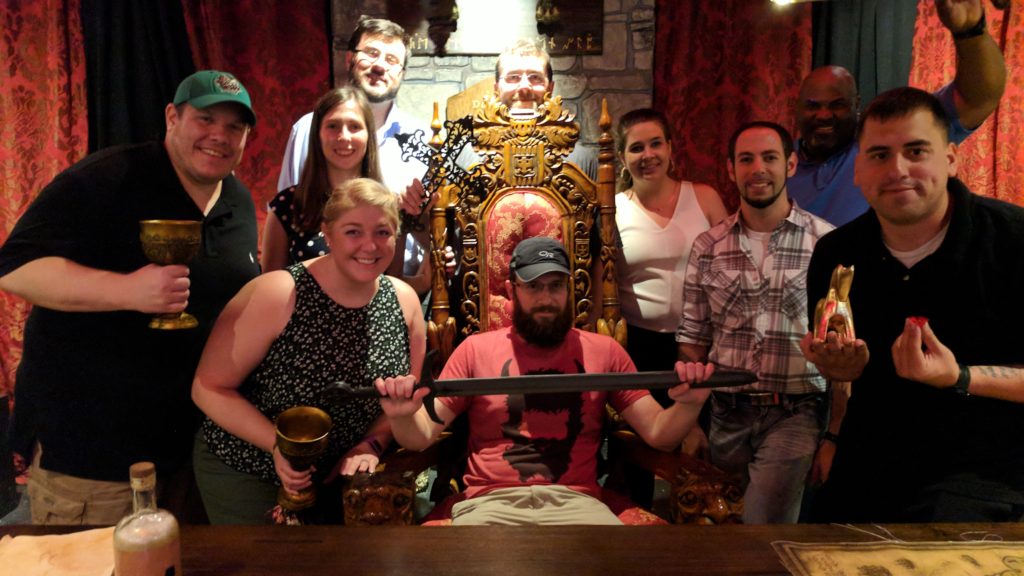 Worth the time and money? Yes
Where to Eat/Drink Before/After:
Eamonn's A Dublin Chipper – a great place to stop for some fish 'n chips, and a nice cold beer.
Vermillion – stop in for a drink and some appetizers.
But, it's Old Town and there are tons of places to eat and drink.